Am I Drowning My Plant?
Jul 16,2021 | Cassandra Low
Every plant needs different amounts of water, so how do you tell how much water they need? Here are some ways to check if your plant needs more water and what to do if you've overwatered your plant!
Does your plant need water?
Always check the soil by poking your finger 2 cm deep to see if it is moist. If the soil is dry or light in color, it probably needs more water. Another sign your plant isn't getting enough water is when the stems are brittle and inflexible. 
Is your plant getting too much water?
The soil


If there is a foul smell coming from the soil, your plant might be getting too much water which has led to roots starting to rot. Another indication is the presence of fungal growth.




The leaves
If the younger leaves and the lower leaves of the plant are starting to turn brown or yellow, you might be overwatering your plant. If you see blisters appearing on the leaves, the cells have probably absorbed too much water.



Image of blistering leaves. Credits: University of Maryland Extension
You can also tell if the plant is wilting due to overwatering by observing the wilting leaves. If they are dry and crisp, the plant lacks water, but if they are limp, they are likely to be overwatered.
Image of overwatered leaf. Credits: Plant Care for Beginners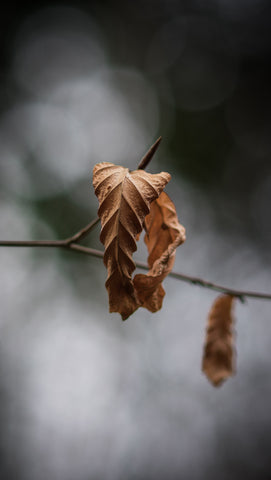 Image of dried leaves from underwatering. Photo by Lachlan Gowen on Unsplash
How to save an overwatered plant?
Stop watering for a while


Wait until the soil is completely dry, not just on the surface. This might need a couple of days or a week.



Replant 
Carefully dig the roots out of the plant and check for rotting roots. If the roots appear to be black and have a foul smell, trim them away (healthy roots should appear white). Or you could use fungicide to help. Replant your plant in a pot with drainage holes to allow excess water to flow out. Replace the soil, especially if you discovered root rot in your plant, to prevent another infection.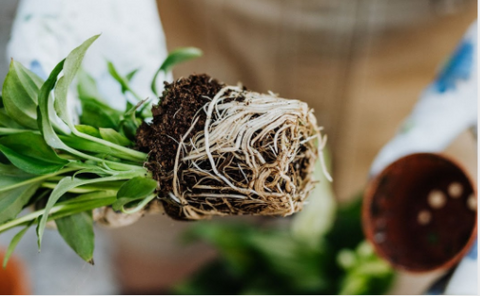 Remember to always check the soil before you water your plant and read up on how much your plant needs. 
Here are some useful tips for watering your plants to keep them healthy! 
Avoid watering your plants at night
Plants usually don't take up as much water when there is no light for them to photosynthesise. Watering them at night might lead to fungal growth and root rot as plants sit in the damp soil throughout the night.
Try bottom watering
Bottom watering prevents the plant from getting too much water that it doesn't need. Make sure your planter pot has a drainage hole and the soil is not too compact. Then place the potted plant into a container large enough to fit the pot and fill the container with 2cm of water. Be sure to check on the plant after 10 minutes to see if the soil below the plant is damp. If it is, you can take it out from the container. Remember to set a timer! Leaving the pot in the container of water for too long can still cause overwatering!
Comment